Arrival In Churchill Manitoba
The time has finally arrived ... we head into polar bear country for a couple of weeks. Churchill in Manitoba is the Polar Bear Capital of Canada and the world.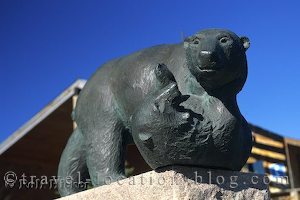 Photo of a polar bear statue in Churchill,
Manitoba, Canada.
October 22, 2007
As suspected, it was somewhat of a struggle to get up early to catch our flight from Winnipeg to Churchill. We're not the most enthusiastic folk in the morning and even less so when it's super early!! We had everything organised and ready to rock the night before, so we literally just had to get up and go - which was at least one bonus.
We checked in for the flight which was due to depart at 7:30am and were surprised by the number of people heading to Churchill - 3 planes full in fact, leaving only 30 minutes apart. This was obviously a taste of things to come!
For those who don't know - the main attraction in Churchill are the polar bears which people flock to see over a period of around 2 months each year, namely October and November. The small, and usually sleepy town of Churchill turns into a hive of activity with buggy and bus tours coming and going constantly throughout the day.
Enroute to Churchill, we made a brief stop in the town of Thompson to refuel the plane because it was very heavily loaded, and were hopeful when we saw a light covering of snow at the airport, perhaps Churchill would also have had the same cold snap. The last time we'd checked, the temperature in Churchill was warmer than in Winnipeg farther south!! Unfortunately, when we arrived in Churchill there was no snow yet but it was apparently due to arrive any day!
We picked up our rental truck and luggage then headed straight to Duncan's Den Bed and Breakfast to meet our hosts and check in before heading out to see some polar bears. Being as warm as it was (3 degrees celsius), the tundra was not freezing and the bears were still in energy preservation mode. This meant they were curled up somewhere sleeping and on the tundra they really blend in unless they're on the move. We saw one during our 2 hour stint, quite a long way away, and looked more like a grosse weisswurst (big white sausage) slumped over a rock!!
We soon returned to town and headed to one of the cafes for dinner before turning in for the night. The cold air certainly made us sleep like a couple of babies that night.
These travel blog entries related to Arrival In Churchill Manitoba may interest you too:
Title:
Arrival In Churchill Manitoba
The time has finally arrived ... we head into polar bear country for a couple of weeks. Churchill in Manitoba is the Polar Bear Capital of Canada and the world.
Author:
Michelle Coats
Date:
sc0539
Newest travel blog entries:
Press "Ctrl+D" to bookmark this page.
Please use this Code to link to this page (copy/paste):