Bluenose Golf Club Lunenburg
Finishing up in Lunenburg at the Bluenose Golf Club and heading back to Halifax.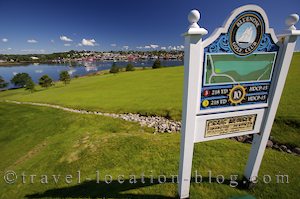 Picture of the 10th tee at the Bluenose Golf Club
in the town of Lunenburg, Nova Scotia.
August 21, 2007:
As I mentioned in yesterdays blog we had to return to Halifax for a few more days. Before we left Lunenburg, we headed to the Bluenose Golf Club for a different perspective of the town. The tenth tee offered a great view with the sweeping lush grass of the greens in the foreground.
These travel blog entries related to Bluenose Golf Club Lunenburg may interest you too:
Title:
Bluenose Golf Club Lunenburg
Finishing up in Lunenburg at the Bluenose Golf Club and heading back to Halifax.
Author:
Michelle Coats
Date:
cdn_k3s27654
Newest travel blog entries:
Press "Ctrl+D" to bookmark this page.
Please use this Code to link to this page (copy/paste):