Control Centre In Victoria BC Canada
Holed up in a basement flat for a month and a half in Victoria, BC, Canada.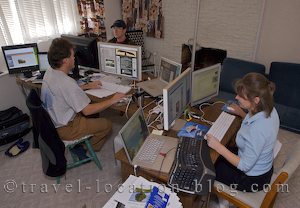 Photo of Michelle, Rolf, and Keith in front of the
computers in Victoria, BC, Canada.
An ultra quick update ... we are still in Victoria developing software for the websites. We will be hitting the road on Monday May 14th.
The Nasa Base in Saanichton, Victoria in British Columbia, Canada.
These travel blog entries related to Control Centre In Victoria BC Canada may interest you too:
Title:
Control Centre In Victoria BC Canada
Holed up in a basement flat for a month and a half in Victoria, BC, Canada.
Author:
Rolf Hicker Photography
Date:
cdn_k3s17096
Newest travel blog entries:
Press "Ctrl+D" to bookmark this page.
Please use this Code to link to this page (copy/paste):