Farewell New Brunswick Hello Quebec
Crossing provincial borders between New Brunswick and Quebec also means a quick change in language.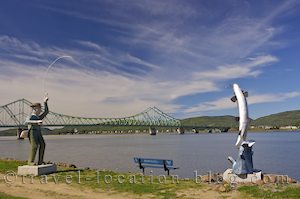 Picture of a fisherman and salmon statue on the banks of
the Restigouche River in Campbellton, New Brunswick.
September 9, 2007:
After a peaceful night in Mount Carleton Provincial Park we packed up and started towards Campbellton, the jumping off point from New Brunswick to Quebec. It was a pleasantly sunny day and we felt somewhat relaxed as we found the Campbellton Visitor Centre along the waterfront of the Restigouche River. The Restigouche River provides a natural border here between the provinces of New Brunswick and Quebec. The Visitor Information Centre is more geared towards visitors arriving in New Brunswick rather than those about to leave, however the large car park provided a good space to leave the camper and walk around a little.
We wandered over to a large monument of an Atlantic salmon which stands at 8.5 metres high. It's name is Restigouche Sam and was erected in tribute to the mighty Atlantic Salmon - the prime reason for settlement along the Restigouche River. Campbellton has a pretty waterfront which was still in the process of being developed, but we could imagine during the height of summer it would be a popular place. An interesting bridge nearby crosses the Restigouche River to Quebec and provides a distinctive backdrop to another statue of a fisherman and salmon.
We soon crossed over the Restigouche River on the same bridge we'd photographed and entered Quebec - with a little trepidation! What there is of our french speaking abilities is very rusty and from our experiences on previous visits to Quebec the residents are totally unwilling to communicate unless it's in french. Although a little late, we did a quick run down and test on the basics such as greetings, and numbers etc as we proceeded.
We headed east along the river which soon spilled into the Chaliers Bay, and made a stop at the Miguasha National Park the home to an important fossil musuem and a UNESCO World Heritage Site. The museum features the largest known fossil speciman of a particular plant, various tree fossils and even an amphibian fossil found in Germany.
Driving through the town of New Carlisle on the Gaspesie Peninsula, we couldn't resist several photo stops along the main street where the usually red fire hydrants which line the road have been painted up into various cute characters.
Our destination that night was to be the town of Perce on the eastern shores of the Gaspesie Peninsula. We got into town in plenty of time to secure a camp site which overlooks the famous Perce Rock and Bonaventure Island and provided a great platform to watch a dramatic sunset.
These travel blog entries related to Farewell New Brunswick Hello Quebec may interest you too:
Title:
Farewell New Brunswick Hello Quebec
Crossing provincial borders between New Brunswick and Quebec also means a quick change in language.
Author:
Michelle Coats
Date:
cdn_k3s28995
Newest travel blog entries:
Press "Ctrl+D" to bookmark this page.
Please use this Code to link to this page (copy/paste):