Fly Fishing In Salmon River Main Brook Newfoundland
A little bit of leisure time and fly fishing on Salmon River near Tuckamore Lodge in Main Brook, Newfoundland.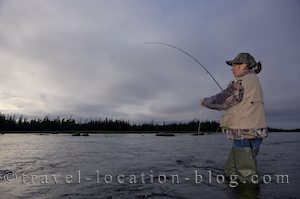 Photo of Michelle fly fishing in the Salmon River
near Main Brook, Newfoundland.
June 28, 2007:
We could tell you that we caught a huge salmon but it got away ... I'm sure you'd believe us!
Well I definitely got a few nibbles and we can vouch for the fact that salmon do run in Salmon River - we saw three breach. Today however, wasn't to be my day for catching .... just fishing!
It was just magic, standing out in a fast flowing river surrounded by wilderness and the peace and quiet - trying, in my own quirky way, to cast a fly line.
Eventually, after spending several hours fly fishing, the cool of the early evening drove us to pack up and head back to the lodge. We walked back to Southwest Pond (Tuckamore Pond) to where the boat was anchored along the shore, and Randy drove us back to Tuckamore Lodge where we settled in for a warm and hearty dinner.
Tuckamore Lodge is a great place to base yourself for a fishing vacation. Be sure to check out the Tuckamore Lodge website for more information.
These travel blog entries related to Fly Fishing In Salmon River Main Brook Newfoundland may interest you too:
Title:
Fly Fishing In Salmon River Main Brook Newfoundland
A little bit of leisure time and fly fishing on Salmon River near Tuckamore Lodge in Main Brook, Newfoundland.
Author:
Michelle Coats
Date:
cdn_k3s19652
Newest travel blog entries:
Press "Ctrl+D" to bookmark this page.
Please use this Code to link to this page (copy/paste):