Let The Adventure Begin
Arrival in Vancouver after an adventurous trip down Vancouver Island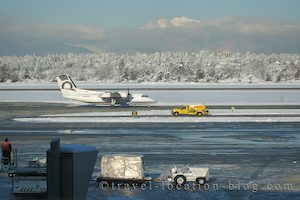 Vancouver Airport snowed in.
A short update from snowed in Vancouver Airport.
It took us almost 10 hours to drive from Port McNeill to Victoria. Snow everywhere, and waaaay to much on the road. We made it to Victoria but had to leave immediately just to make sure that we make it to the mainland in time - a big new storm threatened to shut down the ferries.
Well, we made it through to Vancouver too. It is unbelieveable how a "little snow" can shut down a whole town. A lot of stores, including very large ones where closed due to snow. Wonder how this works with the Olympics 2010 if it snows in Vancouver (which everybody hopes for the Winter Games).
Anyway, we were able to make it to the airport and fortunately we allowed 4 hours, it took us 2!!!! hours to check in and go through customs and US Immigration (at the Vancouver Airport???). What a nightmare - not fun anymore! Oh well, too sad that travelling is sooo difficult today - I'm not quite sure if it is really safer - but for sure their is more beaurocracy and more unfriendly people dealing with the travellers today. No wonder less and less people travel today. But hey, we got internet at the airport (not very cheap for $10.- per hour, but we are online. Stay tuned, we will come back as soon as we make it to New Zealand - our destination. I'm not sure if it takes 20, 30 or 40 hours till we finally arrive in Christchurch - but we are on the waaaaaaay. 28.November.2006
These travel blog entries related to Let The Adventure Begin may interest you too:
Title:
Let The Adventure Begin
Arrival in Vancouver after an adventurous trip down Vancouver Island
Author:
Rolf Hicker
Date:
28.11.06 - img_0007 Let the adventure begin
Newest travel blog entries:
Press "Ctrl+D" to bookmark this page.
Please use this Code to link to this page (copy/paste):