Nature Turns On A Beautiful Sunset Over Hudson Bay Manitoba
The highlight of the day comes at the end with a vivid sunset over a freezing Hudson Bay in Manitoba, Canada.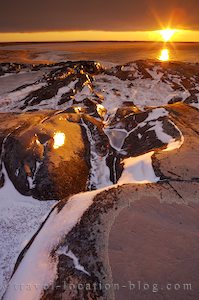 Picture of a vibrant sunset over Hudson
Bay near Churchill in Manitoba, Canada.
November 3, 2007:
It was another full day of bear searching, as opposed to bear watching!
A frustrating day in the wildlife department - no polar bears anywhere to be found! We did however stumble on a flock of ptarmigans again and spent some time photographing them. By now the ptarmigans were dressed completely in their white plumage (except for their black wing tips which are visible when they fly) and blended in very well with the snow covered tundra! Their cute feathered feet look like snow-shoes, although the feathers are there more to help protect them against the cold.
Although we couldn't see any polar bears around, it didn't mean they weren't there! The tundra has many mounds and folds in it's surface - perfect for concealing a sleeping or resting bear! For this reason, while Rolf and Thomas were outside photographing, I'd most often stay inside the truck and scan the area constantly looking for any signs of movement - I was ready to jump on the horn to alert them! Cushy job I know, but someone has to do it! Actually the doors of the truck remain open for them at all times so it made for a cold waiting game!
After a while we continued our search for polar bears but our efforts were not rewarded - not today anyway! I opted out for the afternoon search but the guys headed back out there in determination. Although they didn't manage any new encounters with polar bears, mother nature came to the rescue and put on an outstanding light show as the sun sunk towards, then dipped below the horizon. Hudson Bay was lit up like a christmas tree for an instant before being thrown into complete darkness till the morning.
These travel blog entries related to Nature Turns On A Beautiful Sunset Over Hudson Bay Manitoba may interest you too:
Title:
Nature Turns On A Beautiful Sunset Over Hudson Bay Manitoba
The highlight of the day comes at the end with a vivid sunset over a freezing Hudson Bay in Manitoba, Canada.
Author:
Michelle Coats
Date:
cdn_k3s35867
Newest travel blog entries:
Press "Ctrl+D" to bookmark this page.
Please use this Code to link to this page (copy/paste):