Pancake Bay Provincial Park
A stroll along the beach of Lake Superior at Pancake Bay Provincial Park, Ontario.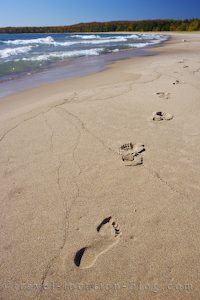 Picture of footprints in the
sand at Pancake Bay Provincial Park.
October 04, 2007:
So here we are on the shores of Lake Superior - the largest of the five great lakes between Canada and the USA. It is also the largest fresh water lake in the world.
This morning we took a walk along the fine sand beach at Pancake Bay Provincial Park - it seems more like an ocean with large rolling waves and sea gulls ... even the sounds. Our fresh footprints in the sand, seagulls resting near the waters edge, and driftwood make great subjects for photos.
We continued on towards the town of Wawa where a large statue stands at the entrance, a monument to the Canadian Geese. Turning around and heading back towards Lake Superior Provincial Park, nearby was the turn off towards Magpie High Falls - a rough road which leads to a pretty cascading waterfall along the Magpie River.
These travel blog entries related to Pancake Bay Provincial Park may interest you too:
Title:
Pancake Bay Provincial Park
A stroll along the beach of Lake Superior at Pancake Bay Provincial Park, Ontario.
Author:
Michelle Coats
Date:
cdn_k3s33253
Newest travel blog entries:
Press "Ctrl+D" to bookmark this page.
Please use this Code to link to this page (copy/paste):