Parc National De La Jacques Cartier Quebec Canada
It's a symphony of colour in Parc national de la Jacques-Cartier in the province of Quebec, Canada.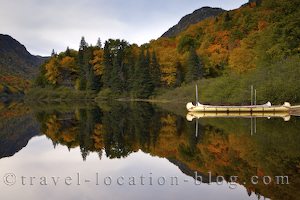 Picture of fall reflections on the river in Parc national
de la Jacques-Cartier in the province of Quebec, Canada.
September 24, 2007:
We made our way to the Parc national de la Jacques-Cartier today, only a 30 minute drive (or 45-50 minutes in a camper) from the city of Quebec. Ahhhh .. back in the wilderness again, this is where we feel the most comfortable and at ease.
This park is dominated by the Riviere Jacques-Cartier and the Route de la Vallee wends its way along the steep sided river valley allowing access to mountainous vistas. Of course at this time of year the yellow birch and maple trees are a symphony of colour fringing the river. Several pools in the river are still enough to reflect their cloaks of red, yellow, and orange.
We spend what is left of the day here and part of the next - we couldn't help it, it seems every turn in the road offers a new photo opportunity as well as every trail - the colours are just amazing! It even induced us to set up the large format camera.
That evening we used a large boulder which protruded into the river to set up the cameras on and capture images of sunset. We stayed on to watch as the stars filled the sky and night took over from the day. It was just magical .. but also the evenings are getting chilly. Time for us to head back out to the nearby campground and set up the camper for the night. We carefully scramble down from the rock (not as easy as in broad daylight) and pack the gear back in the camper to head off. There's barely another soul around!! On our way back along Route de la Vallee, we came across a moose cow and her calf using the road so we slowed down and stopped to wait for them to wander off the road again.
These travel blog entries related to Parc National De La Jacques Cartier Quebec Canada may interest you too:
Title:
Parc National De La Jacques Cartier Quebec Canada
It's a symphony of colour in Parc national de la Jacques-Cartier in the province of Quebec, Canada.
Author:
Michelle Coats
Date:
cdn_k3s31029
Newest travel blog entries:
Press "Ctrl+D" to bookmark this page.
Please use this Code to link to this page (copy/paste):