Spectacular Northern Lights Over Churchill Manitoba
An unexpected bonus at the end of an eventful day - an outstanding Northern Lights show drives us back outdoors in Churchill, Manitoba.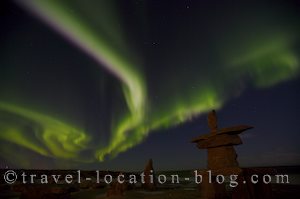 Photo of an inukshuk with colourful northern
lights above Churchill, Manitoba, Canada.
October 29, 2007 - continued:
While downloading pictures from our full day of polar bear adventure our fellow guests walked in after being out for supper and announced the spectacular northern lights show happening outside. We were bone tired by then and hadn't even looked outside or thought about the northern lights but the news got us to our feet and out the door to check them out. Sure enough there they were.
We got dressed up again for the cold and dived out the door 5 minutes later. We headed for the large stone Inukshuk in town on the shores of Hudson Bay and by the time we arrived the sky was full of the northern lights - it was just spectacular. There were shades of green and red mingling and dancing, sometimes slow and rhythmic, other times fast and frantic.
The wind was really picking up and was blowing in our faces - it felt like needles on our skin! The light show continued for around 40 minutes with a number of people arriving to take pictures and enjoy the display also!
After a while they started fading so we packed up and headed for home - we were cold and definitely tired now. Often on a clear night the lights will go on and on into the early hours of the morning, fading in and out. We'd seen what liked like a solar storm, where the whole sky seemed to be engulfed by them - moving and changing colour.
It was a dramatic and invigorating end to an already eventful day!
These travel blog entries related to Spectacular Northern Lights Over Churchill Manitoba may interest you too:
Title:
Spectacular Northern Lights Over Churchill Manitoba
An unexpected bonus at the end of an eventful day - an outstanding Northern Lights show drives us back outdoors in Churchill, Manitoba.
Author:
Michelle Coats
Date:
cdn_k3s34903
Newest travel blog entries:
Press "Ctrl+D" to bookmark this page.
Please use this Code to link to this page (copy/paste):