Spring Time In Victoria British Columbia
Although the air temperature is still cooler than New Zealand, there are fields of spring blooms and blossoms in Victoria, British Columbia.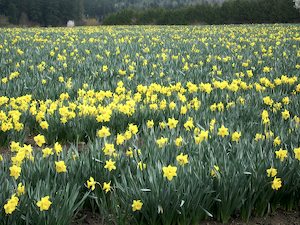 Photo of a field full of daffodils during spring in
Victoria, British Columbia, Canada.
We touched down in Vancouver with great relief after 24 hours of travelling. Luckily we'd arranged with our friends to deliver our truck to the Park'n'Fly facility at Vancouver airport which is a great service. You basically deliver your vehicle (or have it delivered as was the case with us) to the enclosure and take off on your flight. On your return, you simply call the 1800 number to let them know that you are back and that you need a shuttle transfer from the airport to their facility and they'll have the vehicle ready for you when you get in. Very convenient!
We checked-in to our luxurious room at the Best Western Abercorn Inn in Richmond, then headed straight for the hotel's Pub for a bite to eat before heading straight to bed for some much needed sleep! The Abercorn Inn is conveniently situated close to the Vancouver Airport, the Richmond Centre, and a variety of other attractions. The guest rooms have recently been refurbished offering superior accommodation, and the amenities on offer make this a delightful and charming Inn.
The next morning after a hearty breakfast at the Abercorn Inn and running a few erands around town, we headed through Vancouver City to Horseshoe Bay for the ferry to Nanaimo, only to be told that there could be a two ferry delay. Ouch!!! This was not a happy thought. However, Lady Luck was on our side, and we managed to get on the intended 12:30pm ferry. It would have been a real bummer - travelling 24 hours from NZ to Canada with everything running on schedule and going according to plan, only for the last public transport service to have mucked it up for us. As it turned out, it was the end of spring break hence the huge numbers of people travelling.
After the 1.5 hour long ferry crossing to Departure Bay in Nanaimo, we began the 3.5 to 4 hour drive up to the northern end of the Island to Port McNeill - where it all began at the Black Bear Resort at the end of November last year!
We spent a couple of days catching up with friends in Port McNeill and collected some gear out of storage before leaving again for Victoria where we'll be based for about 4-5 weeks. During this time we'll be intrenched in a basement apartment with our "Java God" web developer while making a few adjustments and improvements on our main website - hickerphoto.com. Right now it looks like a NASA control centre in the living room!
This picture is the view from where we're staying in Victoria on Vancouver Island - spring is in the air!!
These travel blog entries related to Spring Time In Victoria British Columbia may interest you too:
Title:
Spring Time In Victoria British Columbia
Although the air temperature is still cooler than New Zealand, there are fields of spring blooms and blossoms in Victoria, British Columbia.
Author:
Michelle Coats
Date:
27.03.07 - img_1271 Spring Time in Victoria British Columbia
Newest travel blog entries:
Press "Ctrl+D" to bookmark this page.
Please use this Code to link to this page (copy/paste):