The Royal St Johns Regatta
North America's oldest continuously running sport is the annual Royal St John's Regatta.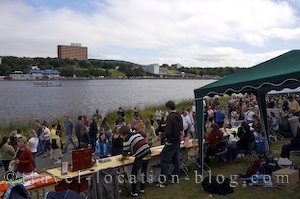 Picture of market stalls lining Quidi Vidi Lake
during the Royal St John's Regatta, Newfoundland.
August 2, 2007:
We're two months into our Honeymoon Canada production, and still we're modifying the truck and camper. These mods are necessary to make our relatively tiny living and travelling space as comfy as possible. We were put on to the idea of using a sail maker to make a bag for our screens which have so far been transported across Canada in our shower unit (in the camper). This made things a little tight in the bathroom plus the weight distribution in the camper wasn't ideal. We came up with a bag that could hang down in the truck which is nicely padded so the screens wouldn't be damaged. It works a treat!!
The only challenge is that the sail maker is situated by Quidi Vidi Lake which is the location of the Royal St John's Regatta, and it happens to be the day we have to pick up the bags. Actually it worked to our advantage ... we could park at the sail maker and while they installed the bags we moseyed over to the Regatta.
What we didn't count on was just how busy it was - the traffic alone was crazy with detours taking us way off course, and officers directing traffic instead of lights.
At the centre of the action at the regatta, there were people everywhere! Market Stalls with people selling their wares whether it be candy or handcrafted jewellery. Meanwhile the rowing races which is what the regatta is all about, were in full swing.
The Royal St John's Regatta, was actually delayed by a day or two due to tropical storm Chantal sweeping through the district and dumping 90 millimetres of rain in the city of St John's causing severe flooding and property damage.
The regatta is a great family day out which is subject to weather - although it is never cancelled completely, only postponed! The event was first borne from crews of various ships competing in friendly rowing and sailing competitions in the harbour as early as the 1700's. The first official race seems to have been around 1816.
These travel blog entries related to The Royal St Johns Regatta may interest you too:
Title:
The Royal St Johns Regatta
North America's oldest continuously running sport is the annual Royal St John's Regatta.
Author:
Michelle Coats
Date:
cdn_k3s26048
Newest travel blog entries:
Press "Ctrl+D" to bookmark this page.
Please use this Code to link to this page (copy/paste):