Torbole Resort Town Gardasee Italy
Picture of a tiny boat harbour on the shores of the Gardasee (Garda Lake) in the town of Torbole in the Trentino-Alto Adige region of Itay.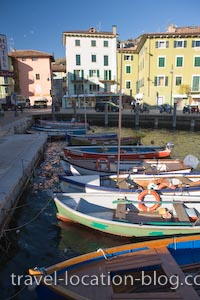 Photo of leisure boats in a harbour in
the resort town of Torbole, Italy.
April 4, 2008:
Small Boats in a harbour along the Lake Garda waterfront in the town of Torbole, Province of Trento, Region of Trentino-Alto Adige, Italy, Europe.
These travel blog entries related to Torbole Resort Town Gardasee Italy may interest you too:
Title:
Torbole Resort Town Gardasee Italy
Picture of a tiny boat harbour on the shores of the Gardasee (Garda Lake) in the town of Torbole in the Trentino-Alto Adige region of Itay.
Author:
travel-location-blog.com
Date:
eur_22v_6143
Newest travel blog entries:
Press "Ctrl+D" to bookmark this page.
Please use this Code to link to this page (copy/paste):