Tuckamore Lodge In Main Brook Newfoundland
Situated along Highway 432 on the Great Northern Peninsula of Newfoundland is a slice of heaven known as Tuckamore Lodge in Main Brook.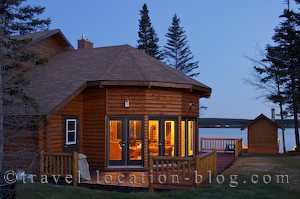 Photo of Tuckamore Lodge on the banks of Tuckamore
Lake in Main Brook, Newfoundland.
June 2, 2007:
Thank God it's morning!! Our neighbours at the Pineridge Campground decided to have an all night party and boy, we know the words to the song 'Living next door to Alice' pretty well now. So sleepily we got prepared to leave the campground and hit the road towards our ultimate destination - Tuckamore Lodge in Main Brook.
From Pasadena, where the townsite sits on the southern banks of beautiful Deer Lake, the journey to the town of Deer Lake is around 25kms. From there we turned onto Highway 430, which is part of the Viking Trail, and headed northwest towards Gros Morne National Park. Our intention is to spend time in Gros Morne on our way back down (in a few weeks) so we really only passed through. We did stop at the Information / Interpretive Centre there to collect more information, and low and behold the displays featured many photos taken by .... you guessed it 'Rolf Hicker', all blown up and used for large displays with credits galore!
Continuing on, we head north along the west coast of the peninsula, passing by many typical Newfoundland style seaside communities steeped in natural and human history.
At the turn off towards Main Brook (highway 432) we decided to continue on highway 430 to see if we could spot any icebergs in the Strait of Belle Isle further up. Shortly after the turnoff we heard a rattling sound in the back so stopped off to check it out and found one of the inside back tyres (we have a dual rear wheel truck) was looking quite deflated. We back tracked to the gas station we'd just passed and were told the only air was a couple of kms back down the road further, so we searched the place out. Luckily they were open and lucky again, the tyre did not have a puncture it was flat because of they way the Ford serviceman had affixed an extension to the valve. Phew - nothing major, just annoying!!
Anyway, further on up the coast we caught sight of a few of the icebergs but many were on the Labrador side of the strait, so quite a distance from us. Quite often a few large icebergs will get swept into the Strait of Belle Isle but the majority of them are carried on the currents to the east, passing by the tip of the Northern Peninsula.
Most of the small communities here have formed in coves or natural harbours which give the local fishermen easy access to the prime fishing grounds, and what are they fishing for?? .. LOBSTER!! As we will discover - the lobsters are extremely fresh and "oh so good!!"
We headed inland from Eddies Cove and were eager to reach our destination - Tuckamore Lodge and visit our friend Barb Genge who owns and operates the lodge. We have been invited for a few days of rest which is a dream for us since Tuckamore Lodge is a home away from home.
First opened in 1986, Tuckamore lodge is situated on the banks of Tuckamore Lake near the town of Main Brook (in Hare Bay). The lodge is surrounded on three sides by forest which is full of natures smaller critters such as squirrels and an array of small birds. Activities available when staying at Tuckamore Lodge range from Iceberg and Whale Watching Tours, Fishing, Kayaking, Canoeing, and Hunting, just to name a few.
So, the truck and camper will be retired from active duty for a couple of weeks while we use a smaller vehicle to get around and explore the area and indulge in a life of luxury at Tuckamore Lodge. There is also no fear of going hungry! The meals here are very hearty and although you never leave the table hungry you will want more simply because it's so good!!
We turned in early after dinner to enjoy our well appointed room and get some much needed sleep. Tomorrow we will go iceberg watching.
Find more information by visiting the Tuckamore Lodge website or by Phoning Toll Free: 1888 865 6361 or (709) 865-6361.
Find out what we wrote about Tuckamore Lodge on our Travel Channel website.
These travel blog entries related to Tuckamore Lodge In Main Brook Newfoundland may interest you too:
Title:
Tuckamore Lodge In Main Brook Newfoundland
Situated along Highway 432 on the Great Northern Peninsula of Newfoundland is a slice of heaven known as Tuckamore Lodge in Main Brook.
Author:
Michelle Coats
Date:
2 June 2007 - cdn_k3s17503
Newest travel blog entries:
Press "Ctrl+D" to bookmark this page.
Please use this Code to link to this page (copy/paste):