A Peek At Part Of The Viking Trail
From fishing dinghies, to viking huts we explore a small section of the Viking Trail on the Great Northern Peninsula of Newfoundland.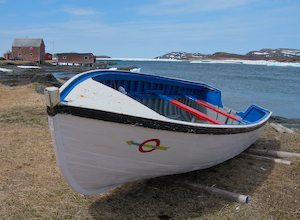 Picture of a colourful fishing boat hauled out
on the beach in Quirpon, Newfoundland, Canada.
June 5, 2007:
Another gorgeous day in the wilderness of Newfoundland. After catching up with emails and a bit of 'office' work we headed off to explore the north eastern reaches of the Great Northern Peninsula - where the vikings once ruled supreme.
We headed in the general direction of St Anthony, north of Main Brook, then turned off onto Highway 436. First up, we checked out the small coastal communities of St Lunaire and Griquet which before the 1950's were two separate communities but have since been imalgamated and are now called St Lunaire-Griquet. An important part of the coast during the cod fishery heyday, the communities now receive attention from tourists exploring the Viking Trail either on their way to or from the National Historic Site of L'Anse aux Meadows. Be sure to stop off at the Dark Tickle shop - they make an array of preserves from local wild berries such as Bakeapple (Cloudberry), Partridge berry, Wild Blueberry, Crowberry, and much more. The gift store has a variety of "goodies" including their own preserves, chocolates, and vinegars, locally made crafts, and arts.
The town of Quirpon has the most northerly harbour on the Great Northern Peninsula. It was once a bustling port for 30-50 fishing boats however, it too was a casualty of the now defunct cod fishery.
Newfoundlanders are a resourceful, hardy bunch and although many people have moved away from these beautiful coastal communities, others have turned to avenues such as shrimp and crab fishing, eco-tourism, even preserves, to carve out a living for themselves.
We moved on to visit a replica of a Viking Port of Trade called Norstead in L'Anse aux Meadows. Norstead has been constructed to emulate the real look and feel of a Port of Trade during the Viking era. Although the site was open, it was not fully operational on this visit, so we will return in a few days when the costumed interpreters are present.
We plan to return here anyway because we want to spend more time at the L'Anse aux Meadows National Historic Site. For now though, we are heading back to Tuckamore Lodge in Main Brook for a hot and undoubtably delicious meal.
These travel blog entries related to A Peek At Part Of The Viking Trail may interest you too:
Title:
A Peek At Part Of The Viking Trail
From fishing dinghies, to viking huts we explore a small section of the Viking Trail on the Great Northern Peninsula of Newfoundland.
Author:
Michelle Coats
Date:
img_1507
Newest travel blog entries:
Press "Ctrl+D" to bookmark this page.
Please use this Code to link to this page (copy/paste):