Driving Through Ontario Canada
A slow but interesting start at Killbear Provincial Park then driving to the town of Mt Albert in Ontario.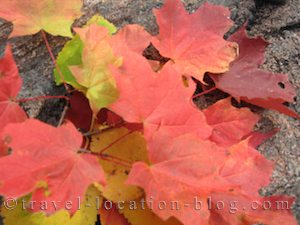 Picture of fall leaves in a forest
in Ontario, Canada.
October 7, 2007:
Interesting morning! Just as we were packing up and getting ready to head off on another day of driving, a little drama started unfolding at our neighbour's site. Today was the mass exodus of campers, plus it was the last day of camping at Killbear Provincial Park!
Our neighbours had managed to park their large RV (bus) in the relatively small site across from us by parking at a right angle and thus still leaving them plenty of space to move around the site. This was great until they had to leave - it was a sandy site and there'd been a lot of rain ... of course. We watched with interest and almost envy while they packed up, as we imagined the amount of space available in one of those RV's. It had about three slide outs and plenty of storage space, a place for bikes, canoes, and hydraulic jacks ... boy it looked nice. Not that we'd trade our camper in fact we love our home and it suits us perfectly ... for the now.
Anyway, they got packed up started the engine so it'd warm up - brought in the slides, let down the jacks and they all piled in to head off. One little problem though - the sand! He had to back out of the site (remember at a right angle) and the road is not very wide and is also made of sand ... as was our site which was below him. He started to move off but dug a great big hole in the sand for himself and no matter how hard he tried that beast was not budging! It drew quite a crowd - first the onlookers, then those who pitched in to help! Poor fellow, his wife didn't even pitch in to help - she was too embarrassed so stayed on board the whole time. After about an hour, several armfuls of rocks to place under the tyres for traction, large boards of plywood, digging, backing up, revving ... the whole works, it was looking like he might get out. All he needed to do was floor it - get some traction and keep going - don't stop. Now it was time for us to vacate our site ... just in case he kept going!
After warming up the truck, we cleared a path through the audience and got ready to scale the sandy slope of our own site to get out - chances are we'd have similar trouble as our neighbour! Luckily though we got out with no further dramas and shortly afterwards the RV was also freed.
We drove from Killbear Provincial Park to the town of Mt Albert today and found a site at the Ponderosa Campground - which caters more to long term campers than overnighters! This too was a drama, we really needed some internet since it'd been a while and so we had to find a site where we could launch the satellite. We ended up parking in an open area and hooking up to the power inside one of the cabins - it wasn't a real site but at least we had internet.
That night we both decided that part one of our Honeymoon Canada production would now come to an end. The weather forecast for the next week was not very favourable and we needed to take care of a few projects before heading to Churchill and then to Europe.
We made arrangements for a place to stay - where we could set up an office. We also had to arrange for the camper to be winterised as well as arrange for storage among other things. So it's time now to hang up the keys to the truck for a few months. We managed to get a great deal on a room at the Carriage Ridge Resort in Horseshoe Valley for nearly two weeks which means we'll be able to finalise things here before we leave for Churchill on October 21st.
So this was to be our last night in the camper until next year! As you can imagine, we spent the evening reflecting on our travels of Canada and even as far back as New Zealand - we've been travelling now for nearly one full year (only a month and a half short of it) - we left for New Zealand in November 2006.
These travel blog entries related to Driving Through Ontario Canada may interest you too:
Title:
Driving Through Ontario Canada
A slow but interesting start at Killbear Provincial Park then driving to the town of Mt Albert in Ontario.
Author:
Michelle Coats
Date:
img_3182
Newest travel blog entries:
Press "Ctrl+D" to bookmark this page.
Please use this Code to link to this page (copy/paste):