Fall In Algonquin Provincial Park Ontario
Camping and exploring the wilderness of Algonquin Provincial Park, Ontario, Canada.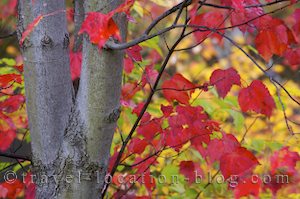 Picture of fall leaves in the forest along the road
to Rock Lake, Algonquin Provincial Park, Ontario.
September 28, 2007:
As planned yesterday, we were at the office by 11:45am waiting for our chosen site to become available. Unfortunately, the clock on the computer system was slow so at noon when we approached the desk the computer hadn't switched over to midday yet!! Finally by 12:20pm we were able to reserve our new site which we decided to book for several days ... we figured we may as well get the most out of it after all this effort.
Over the course of the next few days we combined exploring the park with sitting in the camper and working on our projects. Algonquin Provincal Park was so crazy busy that the car parks at the beginning of the hiking trails were completely full - nowhere left to park, although some people insisted on creating some parking space themselves by parking right behind other cars and therefore blocking their way out. A lot of people really do not think much beyond themselves! We couldn't stand it! Every few minutes a tourist bus would pull up in the car park to spew out another large group of people - it was bedlam! We had to laugh when we'd see (on numerous occasions) young girls/women emerging from these buses - dressed up in their mini skirts or fancy clothing complete with stiletto heels about to embark on a hiking adventure into the forest. I guess the good thing is we'd be able to outrun them when the bears start chasing us! Only kidding! But people should seriously smarten up a little though.
At the west gate of the park, it was just as crazy ... more bus loads of tourists and queues for the women's toilets like you wouldn't believe - out the door and back to the car park. Inside the information centre wasn't much better and the little gift shop had no more room left. Crazy, crazy - so as you can imagine we didn't venture out much but stayed at our nice new site, right by the water with views of the forest draped in fall colours. We took the canoe out on several occasions and enjoyed paddling in the early evening when it was quiet and after we'd put in a day's worth of work. On a few afternoons our peace was broken when a bus load of tourists would be dropped off at the campground to explore the area - something that really irritated the campers - but I guess there was just no other place for them to go if all the other hiking spots and picnic areas were already full.
We ended up staying for five nights altogether and met some wonderful folk who were camping next to us. All seemed nice there as long as we didn't go to the main road too often. We instead explored the 8km long road into Rock Lake which was fringed by forest and of course fall colours.
The following pictures are a few from our days here at Rock Lake in Algonquin Provincial Park.
These travel blog entries related to Fall In Algonquin Provincial Park Ontario may interest you too:
Title:
Fall In Algonquin Provincial Park Ontario
Camping and exploring the wilderness of Algonquin Provincial Park, Ontario, Canada.
Author:
Michelle Coats
Date:
cdn_k3s32202
Newest travel blog entries:
Press "Ctrl+D" to bookmark this page.
Please use this Code to link to this page (copy/paste):