Halifax Citadel National Historic Site
The massive Halifax Citadel was the crown jewel of the Halifax defense system and is now a popular National Historic Site.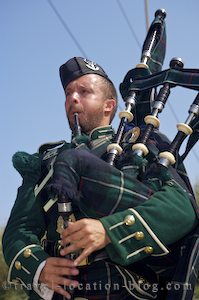 Picture of a bagpiper at the Halifax
Citadel National Historic Site.
August 16, 2007:
Over the course of nearly two weeks while staying in Halifax we visited the city centre a couple of times - only twice because we were fixing a few technical issues during our stay!
The first visit to the city was short and we only had time to take in the Halifax Citadel National Historic Site which was built between 1828 and 1856. The massive star shaped Citadel is one of the largest British fortresses on the continent. The changing of the guard, also known as a sentry, is an event at the citadel bound to be seen during a visit as it happens every hour on the hour. There are also rifle and bayonet demonstrations and bagpipers playing on the historic parade - in the blazing heat of the sun no less!
There's a commanding view of the city and harbour from the citadel also, and an excellent view of the Town Clock.
During our stay we were camped at the Woodhaven Campground in Hammond's Plains which is the closest campground to the city of Halifax. They had pretty good facilities such as reasonably reliable wireless internet, clean washroom facilities, and a much needed laundromat. They were however, not the cheapest and ended up costing "an arm and a leg".
These travel blog entries related to Halifax Citadel National Historic Site may interest you too:
Title:
Halifax Citadel National Historic Site
The massive Halifax Citadel was the crown jewel of the Halifax defense system and is now a popular National Historic Site.
Author:
Michelle Coats
Date:
cdn_k3s27184
Newest travel blog entries:
Press "Ctrl+D" to bookmark this page.
Please use this Code to link to this page (copy/paste):