French Heritage In St Boniface Winnipeg Manitoba
We head across the Red River to St Boniface - the french quarter in the city of Winnipeg, Manitoba, Canada.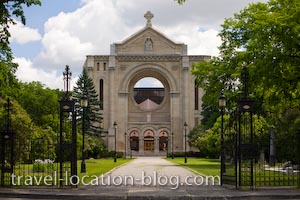 Picture of the facade of the St Boniface Cathedral
in the city of Winnipeg, Manitoba, Canada.
June 18, 2008: cont'd
We drove through to the financial district of the city first hoping to find parking but that was a nightmare and we didn't have the nerve for cruising the streets of Winnipeg in search of some parking so headed directly over to St Boniface - the French Quarter of the city.
We parked the truck in a side street near the cathedral and wandered into the grounds. The most prominent exterior feature of the St Boniface Cathedral is the almost freestanding facade. The cathedral was built between 1905 and 1908 and was one of the best examples of French Romanesque architecture at the time. Sadly it was ravaged by fire in 1968. The facade and a few walls were all that survived the fire and they remain as part of the newly constructed cathedral which was built in 1972.
A short walk further along Tache Ave brought us to the St Boniface Museum which was formerly the Grey Nuns' convent and is Winnipeg's oldest building - built in 1844. After a few pictures of the exterior of the building and the statue of Louis Riel who was the "father" of Manitoba, it was time to head out of town. We wanted to visit the Mennonite Heritage Village in the town of Steinbach and we only had a couple of hours.
These travel blog entries related to French Heritage In St Boniface Winnipeg Manitoba may interest you too:
Title:
French Heritage In St Boniface Winnipeg Manitoba
We head across the Red River to St Boniface - the french quarter in the city of Winnipeg, Manitoba, Canada.
Author:
Michelle Coats
Date:
cdn_22v_18153
Newest travel blog entries:
Press "Ctrl+D" to bookmark this page.
Please use this Code to link to this page (copy/paste):