Aguasabon Falls Terrace Bay Ontario Canada
Picture of the Aguasabon Falls and river gorge in flood after rain in Terrace Bay, Ontario, Canada.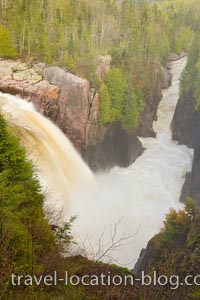 Photo of the Aguasabon Falls
in Terrace Bay, Ontario, Canada.
June 5, 2008:
The flood gates were definitely open today as we passed through the town of Terrace Bay and stopped at Aguasabon Falls.
Apparently, the gates of the dam which usually hold the river back further upstream were opened overnight to let the excess water out. This made for quite a spectacle at the Aguasabon Falls - a waterfall which had more than tripled its regular volume of water.
The falls plunge more than 30 metres (100 feet) to the rugged gorge below before continuing its journey to Lake Superior.
These travel blog entries related to Aguasabon Falls Terrace Bay Ontario Canada may interest you too:
Title:
Aguasabon Falls Terrace Bay Ontario Canada
Picture of the Aguasabon Falls and river gorge in flood after rain in Terrace Bay, Ontario, Canada.
Author:
travel-location-blog.com
Date:
cdn_22v_15376
Newest travel blog entries:
Press "Ctrl+D" to bookmark this page.
Please use this Code to link to this page (copy/paste):