Alpine Pacific Triangle Touring Route South Island
Returning to the Kaikoura Coast via the scenic Alpine Pacific Triangle Touring Route from Hanmer Springs.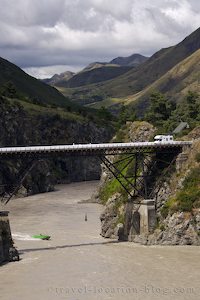 Photo of the Waiau Ferry Bridge,
Bungy Jumper and jet boat.
After breakfast, we headed back along the Lewis Pass road towards Hanmer Springs, to check out the the Waiau Ferry Bridge. The bridge is also used for the adrenalin pumping adventure of bungy jumping and today was no exception - there was a brave soul who willingly leapt from the bridge and plunged to within inches of the river - screaming every moment of the descent. There are stunning views of Thrill-Seekers Canyon from the bridge as well as a rest area a little further up the hill.
It was then time to hit the road again back towards Kaikoura but we took the inland route this time, completing one part of the Alpine Pacific Triangle Touring Route.
After a short pit stop in Kaikoura we continued along the rugged Kaikoura Coastline heading north, passing numerous numbers of Cooked Crayfish stalls which this neck of the coastline is well known for.
Soon after leaving the coast, we are welcomed to the Marlborough District by a large road side sign. Unfortunately, the weather deteriorated from here, we continued to explore a few side roads which provided interesting views of the rolling countryside fringed by the coastline, and also the Lake Grassmere - Evaporation Ponds (salt ponds). We reached the pretty town of Blenheim, the main regional town and the centre of the Marlborough wine industry. North of Blenheim at Tuamarina, we turn off towards the coast once again and follow the road to the small coastal town of Rarangi which sits near the entrance to Port Underwood - this is where we decide to set up camp for the night!
These travel blog entries related to Alpine Pacific Triangle Touring Route South Island may interest you too:
Title:
Alpine Pacific Triangle Touring Route South Island
Returning to the Kaikoura Coast via the scenic Alpine Pacific Triangle Touring Route from Hanmer Springs.
Author:
Michelle Coats
Date:
08.12.06 - nzk3s3136 Alpine Pacific Triangle Touring Route S
Newest travel blog entries:
Press "Ctrl+D" to bookmark this page.
Please use this Code to link to this page (copy/paste):