Apfelwein Gluehwein Mugs In Frankfurt Germany
Another souvenir, these cute mugs are shaped like traditional Apfelwein jugs but there was no sign of Apfelwein only gluehwein at the Frankfurt christmas markets at the Roemerplatz.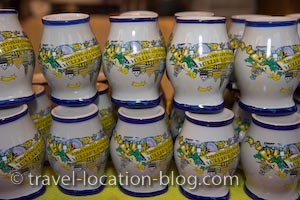 Picture of the mugs used to serve gluehwein at the
christmas markets in Frankfurt, Germany.
December 21, 2007:
Interesting shaped cups for serving Gluehwein at the Christmas markets in the Romerplatz, Frankfurt, Hessen, Germany, Europe. These cups are a smaller version of the jugs which are historically used as a serving vessel for Apple Wine (Apfelwein). Apple wine is mostly produced in Hesse.
These travel blog entries related to Apfelwein Gluehwein Mugs In Frankfurt Germany may interest you too:
Title:
Apfelwein Gluehwein Mugs In Frankfurt Germany
Another souvenir, these cute mugs are shaped like traditional Apfelwein jugs but there was no sign of Apfelwein only gluehwein at the Frankfurt christmas markets at the Roemerplatz.
Author:
© travel-location-blog.com
Date:
eur_ds3_0022
Newest travel blog entries:
Press "Ctrl+D" to bookmark this page.
Please use this Code to link to this page (copy/paste):