Arrival New Zealand
Not quite summer yet in New Zealand.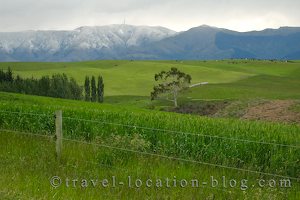 Photo of rolling country side and snow covered
mountains on the South Island, New Zealand.
We made it - but how?? As "usual" 2 bags were missing when we arrived in Auckland. This is now the third flight in a row where somehow our cameras got left behind. Pretty bad I think, first we had to pay almost $400.00 in overweight luggage, then Air Canada made us repack our bag just because some of the bags were a little over the limit, then the flight was delayed and we almost missed the connecting flight in San Francisco and then after all that.... the bags where missing.
At least the flight with Air New Zealand was good and quiet, although 13 hours long. We were impressed with the helpful service Air New Zealand provided, we wish the North American Airlines could do the same. The flight was over quite fast, lots of foot space and a unique individual entertainment system at each seat on the plane. We could choose from a lot of brand new movies and could start them whenever we wanted! That sure helps on the long haul flights!
In Auckland we changed Terminals and continued to Christchurch. So far we don't really feel to be in New Zealand. It is not quite summer yet and fresh snow on the mountains almost made us feel at home. But we finally made it. We will stay now for a few days in Oamaru, get organized and then we will hit the road by next week. We are excited to be finally here and can't wait to start our trip.
These travel blog entries related to Arrival New Zealand may interest you too:
Title:
Arrival New Zealand
Not quite summer yet in New Zealand.
Author:
Rolf Hicker Photography
Date:
1.12.06 img_0013 Arrival New Zealand
Newest travel blog entries:
Press "Ctrl+D" to bookmark this page.
Please use this Code to link to this page (copy/paste):