Back In Freising Bavaria Germany
Here we are back in the town of Freising but only for a few days. We will finish catching up with work, then head over to Austria for some fun in the snow!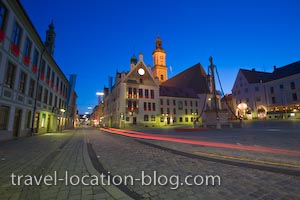 Photo of the Rathaus and Marienplatz in the Main
Street of Freising, Bavaria, Germany.
February 13, 2008:
Facade of the Freising Rathaus (Town Hall) and bell tower of St George's Church in the Marienplatz seen from along Untere Hauptstrasse at dusk, City of Freising, Bavaria, Germany, Europe.
These travel blog entries related to Back In Freising Bavaria Germany may interest you too:
Title:
Back In Freising Bavaria Germany
Here we are back in the town of Freising but only for a few days. We will finish catching up with work, then head over to Austria for some fun in the snow!
Author:
travel-location-blog.com
Date:
eur_22v_9301
Newest travel blog entries:
Press "Ctrl+D" to bookmark this page.
Please use this Code to link to this page (copy/paste):