Beaches And Forests Of Northland
From the outskirts of the ever expanding city of Auckland to the beaches of Northland.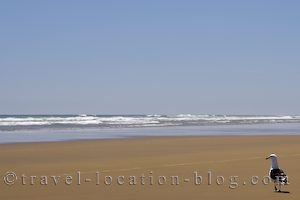 Photo of a seagull on the beach at Glinks
Gully Beach in Northland.
Another day of mostly driving to get to the famous Waipoua Forest or nearby. Northland is known for it's beautiful giant Kauri tree stands which are sadly now only the remnants of a time when the majority of the land was made up of native trees and bush. Most of the Kauri Trees were felled to be used in house building or furniture. Before being chopped down in their prime they were also bled of their sap during the Kauri Gum boom days. The sap was used for jewelry and ornaments in the 1800's. Our first stop was at the Matakohe Kauri Museum which features interesting displays of the lengths men went to to harvest the Kauri Trees and their sap. It also provides an insight into the harsh existence of these men.
From Matakohe we turned towards Dargaville, the Kumara capital of the world (aka sweet potato), then headed towards the west coast to Glinks Gully, one of the entrance points to the 104km long, virtually uninterrupted Ripiro Beach. The traffic along the beach at Glinks Gully was almost that of a regular highway - with a medley of 4WD vehicles and motorbikes cruising the length.
We drove on from here to check out the Department of Conservation (DoC) info centre at Waipoua Forest before returning back down the road to another Kauri reserve called Trounson Kauri Park where we camped the night. The area is so peaceful that even Rolf left his camera behind while we took a 30 minute walk through the bush, amongst giant 1,200 year old Kauri Trees before night set in. Although we didn't see any kiwi's because they are nocturnal, we did hear their loud clear voice in the night.
These travel blog entries related to Beaches And Forests Of Northland may interest you too:
Title:
Beaches And Forests Of Northland
From the outskirts of the ever expanding city of Auckland to the beaches of Northland.
Author:
Michelle Coats
Date:
05.01.07 - nzk3s9893 Beaches and Forests of Northland
Newest travel blog entries:
Press "Ctrl+D" to bookmark this page.
Please use this Code to link to this page (copy/paste):