Black Bear Encounter Near Red Lake Ontario Enroute To Manitoba
Okay so the title sounds a little dramatic, it wasn't like we stumbled on a black bear along a trail or anything, but we did see one which was casually plodding through the long green grass on the side of the road near Red Lake.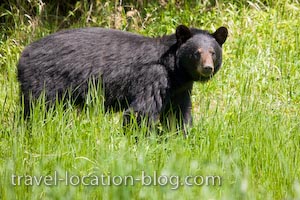 Photo of a black in long green grass near the
town of Red Lake, Northern Ontario, Canada.
June 17, 2008:
We said our farewells to our friend Guy today, who had a busy schedule careering around in the Air Tractor, and headed out of Red Lake, we'd spent 4 days exploring the area with the weather mostly working against us. We'd spent nearly two months in Ontario and it was time to seriously hit the road. We still had a plan to reach British Columbia this year! Our goal today was to reach the city of Winnipeg in the Province of Manitoba.
As we were travelling out along Highway 105 (only one road in and one road out), we caught sight of a black bear walking through the long grass on the side of the road - stopping occasionally to nibble at a patch along the way.
This was less than 20 minutes out of Red Lake and already the camera was out and my notebook at the ready.
There's a healthy population of black bears in Northern Ontario although this was the first one we'd seen on this part of our journey.
We stayed with this chap for about 10 minutes until he was spooked by a large truck which was tearing along the road, the bear headed for the bushes and wasn't to be seen again.
We continued on our way, with no other wildlife sightings or any notable events. We made it out to the Trans-Canada Highway, turned right and just drove! We stopped briefly at the Visitor Centre soon after we crossed into the province of Mantoba for maps and information then continued on towards Winnipeg.
These travel blog entries related to Black Bear Encounter Near Red Lake Ontario Enroute To Manitoba may interest you too:
Title:
Black Bear Encounter Near Red Lake Ontario Enroute To Manitoba
Okay so the title sounds a little dramatic, it wasn't like we stumbled on a black bear along a trail or anything, but we did see one which was casually plodding through the long green grass on the side of the road near Red Lake.
Author:
Michelle Coats
Date:
cdn_22v_17131
The scientific name for the picture Black Bear Encounter Near Red Lake Ontario Enroute To Manitoba is:
Ursus americanus
Newest travel blog entries:
Press "Ctrl+D" to bookmark this page.
Please use this Code to link to this page (copy/paste):