Bumpy Roads Of Cape Breton In Nova Scotia
After spending three nights in Louisbourg we head off towards Cape Breton Highlands National Park, Nova Scotia.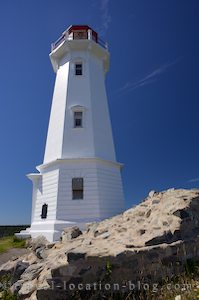 Photo of the Louisbourg Light at the
entrance to the Louisbourg Harbour.
August 10, 2007:
Before heading out of Louisbourg, we drove over to the Louisbourg Light on Lighthouse Point. The current light is the latest on the site and was built in the 1920's. However, right beside the light are the ruins of Canada's first lighthouse which was completed in 1734 and also the second light which was built in the 19th century. The area offers great views of both the narrow entrance to Louisbourg Harbour and the Fortress on the other side.
We left the coast and headed back towards Sydney taking a deviation via Albert Bridge and Marion Bridge to Gabarus Bay. The road was dreadful with potholes, and corrugations along the whole way, parts of it even had grass growing out of it! It's called the Fleur-de-lis Trail and is in pretty poor condition for a promoted scenic route!
Not in the mood for extreme bumpy roads (we'd experienced plenty of them in Newfoundland), we turned back towards Sydney and continued on towards the Cape Breton Highlands National Park. It was mostly a lot of driving today but we did call in to a place called Cabot Shores while looking for a campground that night. Cabot Shores is a four star accommodation retreat centre situated in Indian Brook along the Cabot Trail which is the main road around the fringes of the north west arm of Cape Breton. Although we couldn't stay to camp, the host Paul was very obliging and allowed us to use their wireless internet to take care of some pressing business before continuing on. This place is a true santuary, so be sure to check them out if you're travelling through Indian Brook!
We drove on to Ingonish and headed into the Cape Breton Highlands National Park where we set up camp in the National Park in Ingonish Beach, a huge campground which features 90 camp sites near the beach.
These travel blog entries related to Bumpy Roads Of Cape Breton In Nova Scotia may interest you too:
Title:
Bumpy Roads Of Cape Breton In Nova Scotia
After spending three nights in Louisbourg we head off towards Cape Breton Highlands National Park, Nova Scotia.
Author:
Michelle Coats
Date:
cdn_k3s26736
Newest travel blog entries:
Press "Ctrl+D" to bookmark this page.
Please use this Code to link to this page (copy/paste):