Christmas In Freising Germany
Twas the night before Christmas .... and some of us weren't sleeping! Rolf headed into Freising to capture the beautiful winter scenery Jack Frost had created.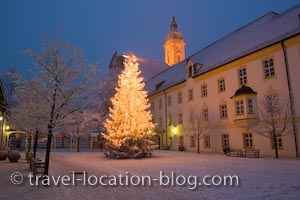 Picture of a large christmas tree outside the
Landratsamt in Neustift, Freising, Germany.
December 24, 2007:
It's Christmas eve and all is quiet except for one little elf on a photo mission. Our very own Rolf heads out into the cold once again to capture Freising as a winter wonderland, while the rest of our stay cozy and warm indoors.
These travel blog entries related to Christmas In Freising Germany may interest you too:
Title:
Christmas In Freising Germany
Twas the night before Christmas .... and some of us weren't sleeping! Rolf headed into Freising to capture the beautiful winter scenery Jack Frost had created.
Author:
© travel-location-blog.com
Date:
eur_ds3_0451
Newest travel blog entries:
Press "Ctrl+D" to bookmark this page.
Please use this Code to link to this page (copy/paste):