City Of Almeria Andalusia Spain
Our first overnight stop in the region of Andalusia in southern Spain was the city of Almeria along the Costa de Almeria.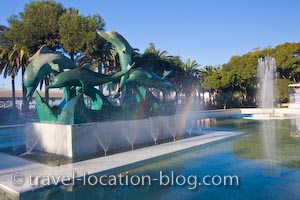 Picture of a dolphin fountain along the waterfront
in the city of Almeria, Andalusia, Spain.
January 20, 2008:
Fountain with statues of dolphins along Parque de Nicolas Salmeron, City of Almeria, Costa de Almeria, Province of Almeria, Andalusia (Andalucia), Spain, Europe.
More info about our travels coming soon ....
These travel blog entries related to City Of Almeria Andalusia Spain may interest you too:
Title:
City Of Almeria Andalusia Spain
Our first overnight stop in the region of Andalusia in southern Spain was the city of Almeria along the Costa de Almeria.
Author:
© travel-location-blog.com
Date:
eur_22v_0757
Newest travel blog entries:
Press "Ctrl+D" to bookmark this page.
Please use this Code to link to this page (copy/paste):