Coast And Rivers Of Marine Drive Nova Scotia
A dose of history and scenic vistas in Cape Breton and along the Marine Drive in Nova Scotia.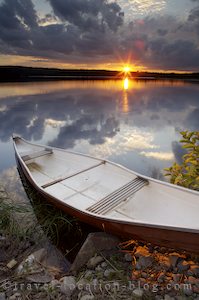 Picture of sunset over St Mary's
River, Sherbrooke, Nova Scotia.
August 12, 2007:
We left our ocean front campground and headed straight for the town of Baddeck after taking a few shots of towns and scenery along the way. The town of Baddeck is situated in the Bras d'Or Lakes region of Cape Breton and is home to the Alexander Graham Bell National Historic Site. As most will know, Alexander Graham Bell invented the telephone along with a number of other conveniences, for which he was awarded the Volta Prize in 1880 by the French Government.
We crossed over the Strait of Canso on the causeway and were back on mainland Nova Scotia. We decided to take the Marine Drive, a scenic route between Mulgrave and Halifax. It turns out to be a secondary road which is sub-standard: corrugations, bulges, and grass growing from splits in the pavement. It wasn't terribly exciting and one thing to note when travelling the Marine Drive (and a point the info centre staff omitted to tell us about) is there is a ferry crossing between Isaacs Harbour North and Port Bickerton. It leaves on the hour and half hour and costs $5 per vehicle.
We ended the day in the town of Sherbrooke at a campsite on the beautiful St Mary's River, with a stunning vivd sunset!
These travel blog entries related to Coast And Rivers Of Marine Drive Nova Scotia may interest you too:
Title:
Coast And Rivers Of Marine Drive Nova Scotia
A dose of history and scenic vistas in Cape Breton and along the Marine Drive in Nova Scotia.
Author:
Michelle Coats
Date:
cdn_k3s27018
Newest travel blog entries:
Press "Ctrl+D" to bookmark this page.
Please use this Code to link to this page (copy/paste):