Day Tripping Through Old Town Montreal Quebec
Quaint cobbled streets, grand architecture, and history dominate a visit to the old town of Montreal City, Quebec, Canada.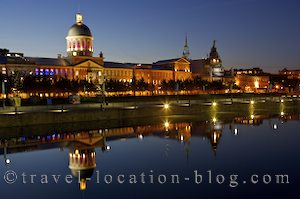 Picture of the Bonsecours Market and Notre-Dame
de-Bon-Secours Chapel in Old Montreal.
September 18, 2007:
After the excitement of the Genesis concert, we ended up staying in Montreal for a week. Although a lot of the time we stayed in the camper and worked on various projects during the week, we took a couple of days out to explore the city.
On our first day we concentrated on the Old town of Montreal, but first headed to the information centre to arm ourselves with as much info as we could about the city. While there, it seemed like a great place to start photographing with it's tidy square and historic cathedral, the Basilique Marie-Reine-du-Monde Cathdrale. The only challenge was parking in our big truck, even without the camper attached to it is tricky.
We then headed to the Old Town of Montreal and found an uncovered parking lot right across the street from the old courts and city hall. Loading up with equipment as we usually do, we headed off to capture images and scenes of a bustling city.
The first thing was the City Hall followed by Place Jacques Cartier where a delightful range of restaurants and cafes line the cobbled square while buskers entertain the summer crowd. Along Rue Saint-Paul is the Marche Bonsecours shopping arcade (Bonsecours Market) which is one of the largest and the most prominent buildings in Montreal's old town - built in the 1840's. Next door is the even more historic Notre-Dame-de-Bon-Secours chapel built in 1771. The spire of the chapel can be climbed and affords stupendous views over the Bonsecours Basin, Old Port and St Lawrence River.
We spent some time in the Bonsecours Basin and Old Port deciding on a suitable location for a night shot and then headed off for dinner at one of the many restaurants in Place Jacques Cartier. Later that night we returned to the Bonsecours Basin to capture an evening image of the Bonsecours Market and Port.
These travel blog entries related to Day Tripping Through Old Town Montreal Quebec may interest you too:
Title:
Day Tripping Through Old Town Montreal Quebec
Quaint cobbled streets, grand architecture, and history dominate a visit to the old town of Montreal City, Quebec, Canada.
Author:
Michelle Coats
Date:
cdn_k3s29634
Newest travel blog entries:
Press "Ctrl+D" to bookmark this page.
Please use this Code to link to this page (copy/paste):