Exploring Canadas Capital City Ottawa Ontario
We pull on our walking shoes again and hit the streets of Canada's capital city - Ottawa for a couple of days.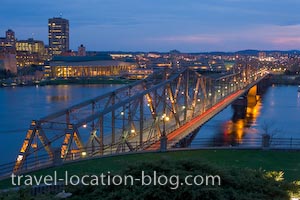 Picture of the Alexandra Bridge leading
from Ottawa City to Gatineau, Quebec.
April 27:
As predicted the day dawned bright and sunny, so we hit the main sights of Ottawa including Parliament Hill, the famous Rideau Canal and Locks a UNESCO World Heritage Site, Fairmont Chateau Laurier, National Gallery of Canada, the stunning Cathedral, Byward Market - basically the staples of our trade!
Ottawa was officially named the capital of the then province of Canada on December 31, 1857 by Queen Victoria. Although there are many stories surrounding how she arrived at her decision to make Ottawa the capital - it is generally believed that the primary reason was due to the location of the city - far from the US border and therefore safe from invasion (following the war of 1812).
There have been many significant personalities who've gained themselves a place in Ottawa's and Canada's history books - some have even been immortalised in bronze. Statues of many of these people have been posted at various locations throughout the city in places such as Parliament Hill.
We ended the daylight shooting at the Byward Market again and looked for another eatery - this time an Italian restaurant called Oregano's and this time it didn't rain - bonus!!
After dinner we wandered over to Nepean for a panoramic view of Parliament Hill, Rideau River, Canal, and Locks, Ottawa River, and Gatineau in Quebec. It was a beautiful evening and in complete contrast to the night before.
The nights are still pretty cool but it seems that the days are starting to warm up.
These travel blog entries related to Exploring Canadas Capital City Ottawa Ontario may interest you too:
Title:
Exploring Canadas Capital City Ottawa Ontario
We pull on our walking shoes again and hit the streets of Canada's capital city - Ottawa for a couple of days.
Author:
Michelle Coats
Date:
cdn_22v_11509
Newest travel blog entries:
Press "Ctrl+D" to bookmark this page.
Please use this Code to link to this page (copy/paste):