Freising Germany Based Again
After a mix of rest, relaxation, and fun in the snow in Neukirchen, Austria, we returned to Freising refreshed. We would stay here now until early April.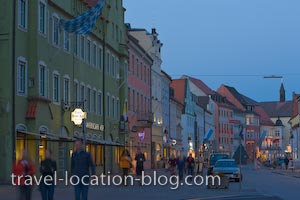 Picture of downtown Freising,
Germany at dusk.
February 24 - April 3, 2008:
Shops along the main street - Untere Hauptstrasse during dusk in the City of Freising, Bavaria, Germany, Europe.
These travel blog entries related to Freising Germany Based Again may interest you too:
Title:
Freising Germany Based Again
After a mix of rest, relaxation, and fun in the snow in Neukirchen, Austria, we returned to Freising refreshed. We would stay here now until early April.
Author:
travel-location-blog.com
Date:
eur_22v_9264
Newest travel blog entries:
Press "Ctrl+D" to bookmark this page.
Please use this Code to link to this page (copy/paste):