From Fields Of Yellow To Historical Sites In Ontario
A day of mixed experiences and frustrations as we try to explore a few highlights of southern Georgian Bay, Ontario.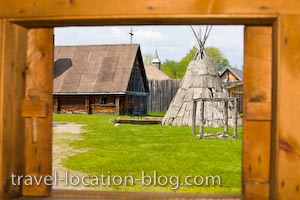 Picture of the Native Area of Sainte-Marie
among the Hurons in Midland, Ontario.
May 26, 2008:
This morning we packed up the camper and headed for the Ford Dealer in the town of Meaford for some much needed attention on the truck. After a bit of fiddling, the mechanic finally found the trouble fuse and managed to fix our pesky problem of no power to the camper - and even better, it was fixed under warranty.
With spring definitely in the air we explored a few side roads on our way towards the Blue Mountain Resort and were rewarded with fields full of bright yellow canola flowers which stretched out almost endlessly. Fruit trees also added a splash of colour with their subtle pinks and creamy white.
The Blue Mountain Resort and the nearby Scenic Caves was next on our agenda, however once again the weather didn't co-operate. On top of the weather there was a lot of construction going on at the Blue Mountain Resort so the scene wasn't very pretty so we continued straight on to the Scenic Caves. After a grueling climb up the road leading to the Scenic Caves, we were a little shocked to find out the park admission price was $18.50 per person. A little steep for a natural geological formation, and with the weather beginning to close in we decided to abandon that idea and headed on towards the town of Midland and checked out a couple of historic locations including Sainte-Marie Among the Hurons and Discovery Harbour.
We were not actually allowed to photograph in Sainte-Marie Among the Hurons since we were considered media so ended up spending very little time on that location and therefore we have little to say about the place. You have to wonder how on earth they want to get promoted if they are shy about letting a freelance photographer in for photography. Apparently it would've made a difference to let them know in advance that we were coming, but we would rather have a "real" experience at the place rather than something contrived and made to look good just for the media. As we've discovered during our travels, many of the historical places we've visited are so wrapped up in politics and internal bureaucracy that it's impossible for them to think outside the box.
We continued on to Discovery Harbour but unfortunately by the time we arrived it was just closing for the day.
As it turned out - it wasn't to be our day ... our next challenge was to find a campground in Honey Harbour, which should've been easy ... right?? Well the first place was not staffed by anyone or as a fellow camper mentioned they were out for the afternoon, plus there wasn't a single site available with both power and water (which we desperately needed). The next place was hellishly expensive at over 40 bucks a night (and that was not for a fully serviced site) - it was a nice place but not 40 bucks nice ... this is camping for goodness sake! How can an average family go camping anymore at those prices? Camping used to be one of the cheapest vacations but not anymore!
We finally found a campground several kilometres out of town - a property with over 100 acres of space. It was a little tired looking and unfortunately the water was not potable (one of our requirements for that night), but by that stage we had to stop for the night! On a positive note at least we had internet!
These travel blog entries related to From Fields Of Yellow To Historical Sites In Ontario may interest you too:
Title:
From Fields Of Yellow To Historical Sites In Ontario
A day of mixed experiences and frustrations as we try to explore a few highlights of southern Georgian Bay, Ontario.
Author:
Michelle Coats
Date:
cdn_22v_13653
Newest travel blog entries:
Press "Ctrl+D" to bookmark this page.
Please use this Code to link to this page (copy/paste):