Historic Michelstadt Hessen Germany
One of the prettiest and best preserved towns in Hessen, Germany, Michelstadt is a charming town in the Odenwald.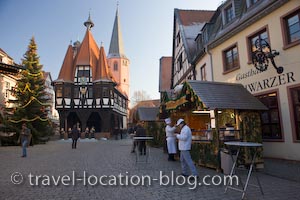 Picture of the market square and Rathaus (town hall)
in the town of Michelstadt, Germany prior to christmas.
December 22, 2007:
The Old Town Hall, Rathaus, and Market Square, Marktplatz, in the historic village of Michelstadt, Hessen, Germany, Europe.
Like many towns in Germany each December, the market square in Michelstadt buzzes with activity during the christmas markets.
These travel blog entries related to Historic Michelstadt Hessen Germany may interest you too:
Title:
Historic Michelstadt Hessen Germany
One of the prettiest and best preserved towns in Hessen, Germany, Michelstadt is a charming town in the Odenwald.
Author:
© travel-location-blog.com
Date:
eur_ds3_0139
Newest travel blog entries:
Press "Ctrl+D" to bookmark this page.
Please use this Code to link to this page (copy/paste):