Islands And Crystal Clear Water Of Lake Superior Ontario
Intriguing aerial picture of forested islands surrounded by the crystal clear waters of Lake Superior, Ontario, Canada.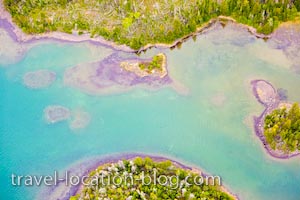 Aerial photo of islands in Lake Superior,
Ontario, Canada.
June 8, 2008:
The view from above was stunning during a flight over Lake Superior. A multitude of islands dot the great lake and from the air we could see that their roots are well seated under the water surface.
The see-through turquoise water revealed rock formations and patterns below the surface while trees carpeted the surrounding islands.
These travel blog entries related to Islands And Crystal Clear Water Of Lake Superior Ontario may interest you too:
Title:
Islands And Crystal Clear Water Of Lake Superior Ontario
Intriguing aerial picture of forested islands surrounded by the crystal clear waters of Lake Superior, Ontario, Canada.
Author:
travel-location-blog.com
Date:
cdn_22v_16241-edit
Newest travel blog entries:
Press "Ctrl+D" to bookmark this page.
Please use this Code to link to this page (copy/paste):