Medina Azahara Ruins In Andalusia Spain
We head out of the city of Cordoba and head for Sevilla, passing through some interesting sights such as Medina Azahara along the way.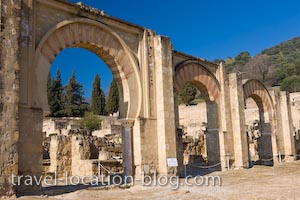 Picture of the ruins of Medina Azahara near the
city of Cordoba in Andalusia, Spain.
January 27, 2008:
From about mid afternoon on the 25th until last night, Rolf was inflicted with a severe stomach bug - brought on by something he ate. Today, with Rolf feeling somewhat better, we decided to head out of Cordoba. Our hotel offered a decent breakfast which we thought was included but turned out it wasn't. So after breakfast (which generally consists of toast with jam, or bread and olive oil, a spread of cheeses and cold meats, and the odd hot dish such as scrambled eggs, and small sausages), we returned to our room to pack.
We headed out of Cordoba, which went quite smoothly (generally traffic is chaotic in Spanish cities) towards Medina Ab-Zahra, ruins of a palace which date back to the 10th century. It is situated only a few kilometres north of the city. The palace was built for Caliph Abd and was named after his favourite wife. Over the years and centuries the palace has been sacked and ransacked, but there is still evidence of it's former glory in the ruins such as elaborate and intricate carvings on the walls, ceilings, and columns created out of wood and marble. It really was a stunning place and set amongst the lush green countryside in the Province of Cordoba. We nearly passed by and didn't bother to go in but that would've been a mistake - it is well worth the effort.
These travel blog entries related to Medina Azahara Ruins In Andalusia Spain may interest you too:
Title:
Medina Azahara Ruins In Andalusia Spain
We head out of the city of Cordoba and head for Sevilla, passing through some interesting sights such as Medina Azahara along the way.
Author:
travel-location-blog.com
Date:
eur_22v_2800
Newest travel blog entries:
Press "Ctrl+D" to bookmark this page.
Please use this Code to link to this page (copy/paste):