Monte Carlo Monaco Cote DAzur
Luxury yachts and race cars in Monte Carlo, Monaco.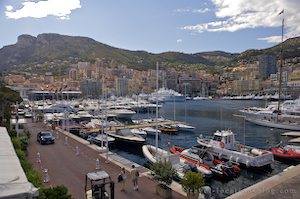 Photo of Port Hercule along the Cote d'Azur
in Monte Carlo, Monaco.
We decided to take another cark park on the peninsula between Monaco Ville and Monte Carlo. Enroute we drive a portion of the road which will soon (in about 2 weeks) be used in the famous Formula One Race through the streets of Monte Carlo. There is already major preparation work going on for the race with an amazing amount of seating being installed for the thousands of spectators expected.
We head to Port Hercule where numerous luxury yachts are moored as well as a spectacular 4 masted cruise ship anchored out a short distance. Soon after we spotted the cruise ship the sails were hoisted up and it sailed away to its next destination!
We move along to the Musee Oceangraphique Et Aquarium in Monaco-Ville and check out the beautiful architecture of various buildings along the way including the Ministere d'Etat.
We head out of town in the general direction of Sospel and find a restaurant with accommodation (Auberge) north of Menton.
These travel blog entries related to Monte Carlo Monaco Cote DAzur may interest you too:
Title:
Monte Carlo Monaco Cote DAzur
Luxury yachts and race cars in Monte Carlo, Monaco.
Author:
Michelle Coats
Date:
09.05.06 - Monte Carlo Monaco Cote dAzur w6925
Newest travel blog entries:
Press "Ctrl+D" to bookmark this page.
Please use this Code to link to this page (copy/paste):