Mozart Vienna Austria
Mozart Territory in the City of Vienna in Austria, Europe.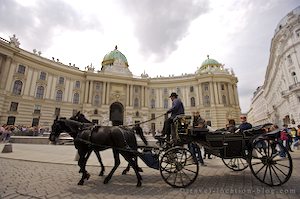 Photo of tourists touring Vienna, Mozart
territory, by horse and buggy.
Moving on, the domes of St Peters Church peek through the buildings along the Graben before we turn towards the Hofburg Palace. The palace contains the imperial apartments, and is home to the Spanish Riding School and world famous Lipizzaner Horses.
Many famous and revered people such as Franz Josef I, Empress Maria Theresa, and of course Wolfgang Amadeus Mozart are immortalized by way of statues and monuments situated in Squares, gardens, and buildings throughout the city.
Vienna is a beautiful city and most of the sights are within a close proximity to each other - perfect for walking tours! We finish the day back in Hinterbruhl at the same Buschenschank as the night before.
Horse and buggy sightseeing tour in front of Hofburg Palace,Vienna, Austria, Europe
These travel blog entries related to Mozart Vienna Austria may interest you too:
Title:
Mozart Vienna Austria
Mozart Territory in the City of Vienna in Austria, Europe.
Author:
Michelle Coats
Date:
23.04.06 - Mozart Vienna Austria w4296
Newest travel blog entries:
Press "Ctrl+D" to bookmark this page.
Please use this Code to link to this page (copy/paste):