New Carlisle Quebec
A cute character painted onto a fire hydrant makes for an interesting drive through the main street of New Carlisle in Quebec.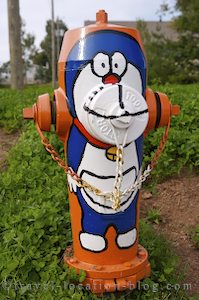 Picture of a painted fire hydrant
in New Carlisle, Quebec.
Here are a couple of pics from our day of travels on Sep 9th.
Decorated Fire Hydrant along highway 132 in the town of New Carlisle, Gaspesie, Gaspesie Peninsula, Bay of Chaleur, Quebec, Canada.
These travel blog entries related to New Carlisle Quebec may interest you too:
Title:
New Carlisle Quebec
A cute character painted onto a fire hydrant makes for an interesting drive through the main street of New Carlisle in Quebec.
Author:
Rolf Hicker Photography
Date:
cdn_k3s29022
Newest travel blog entries:
Press "Ctrl+D" to bookmark this page.
Please use this Code to link to this page (copy/paste):