New Zealand Kiwifruit Country In Te Puke
A visit to Kiwi 360 near the town of Te Puke on the North Island of New Zealand.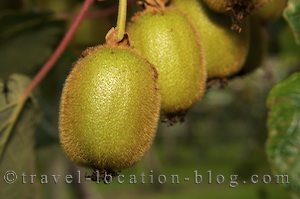 Picture of the green variety of Kiwifruit at
Kiwi 360° near Te Puke, Bay of Plenty.
We woke to the "tink tink tink" of metal on metal, and what sounded like a hammer driving in tent pegs. Peeking out the window of the camper we discovered a hive of activity at the AMP Grounds on the other side of the fence. The locals were preparing tents, marquees, and seating for the Katikati Wine and Food Funfest starting later today.
Despite the continuing wet weather, we depart from Katikati and drive towards Tauranga to see what is going on in this ever expanding metropolis. Unfortunately the grey clouds spat out some rain so we ended up spending most of the visit at Starbucks, until we decided that no visit to Tauranga is complete without heading out to Mt Maunganui. Finding a park was certainly a challenge in Mt Maunganui, obviously the weather hasn't dampened the spirits of the locals and kept them at home or away.
One end of this popular sandy beach was almost entirely dedicated to a volleyball tournament which attracted a large audience. The surf was definitely up - looking out from the beach there was a sea of black wet suit clad bodies waiting on that perfect ride. The wind was gusting pretty high by this stage so it was time to mosey on!
We set our sights on a unique tourist attraction near the town of Te Puke called Kiwi 360°. Based around the humble, furry brown skinned fruit we all know as Kiwifruit and which is among the New Zealand icons, Kiwi 360° offers tours of the extensive orchards. This region produces the majority of the Kiwifruit in New Zealand which is used for export around the world and the tours provide a brief glimpse into this expanding and valuable industry. Afterwards you can enjoy browsing through the gift store and tasting a variety of Kiwifruit wines and liquors. Try out the Gold variety of Kiwifruit which has a slightly different flavour, as well as the Kiwi Berries - a miniature version of the green kiwifruit.
As the rain started to pour, we headed towards Whakatane, and decided to base ourselves there for a few days until hopefully the rain and grey weather abates.
These travel blog entries related to New Zealand Kiwifruit Country In Te Puke may interest you too:
Title:
New Zealand Kiwifruit Country In Te Puke
A visit to Kiwi 360 near the town of Te Puke on the North Island of New Zealand.
Author:
Rolf Hicker Photography
Date:
13.01.07 - nzk3s10900 Stiking Gold in Te Puke New Zealand Ki
Newest travel blog entries:
Press "Ctrl+D" to bookmark this page.
Please use this Code to link to this page (copy/paste):