Norseman Capital Of The World Red Lake Northern Ontario Canada
A fairly quiet day with a short jaunt to the nearby Norseman Heritage Park in the town of Red Lake, the Norseman Capital of the World in Northern Ontario, Canada.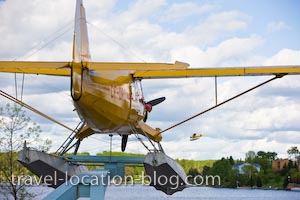 Photo of a Norseman bush plane on a pedestal in the
Norseman Heritage Park in Red Lake, Ontario, Canada.
June 16, 2008:
Red Lake has its most recent history founded on gold mining, and nearby Balmertown which is a community within the Municipality of Red Lake still features two operational gold mines.
Gold was discovered in this region quite by accident by the Howey Brothers - Lorne and Ray in 1925 on the shores of Red Lake which now plays host to the small town of around 5,000 residents.
Tourism also plays a vital role in the region which is a hot spot for top Walleye and Northern Pike fishing and various outdoor recreational activities. It is also the gateway to the pristine Woodland Caribou Provincial Park.
One of the most unique claims to fame for this northern Ontario community is that it is the Norseman Capital of the World. The Norseman is a bush plane which was used extensively to serve remote villages of Northern Ontario. A limited number of the aircraft are still in use around the world however, there are not that many operational Norsemen left.
To shine a spot light back on this unique bush plane - each year Red Lake hosts the Norseman Days festival (in July) which draws visitors from many corners of the world - including those that own a few of the remaining Norseman aircraft in the world.
Since there is a park situated on the lake shore in the town of Red Lake which is dedicated to the Norseman bush plane, Rolf and I, taking advantage of the spell of fine weather, wandered down the street to take pictures and collect information while Guy was out making deliveries to Sandy Lake in the Air Tractor.
That was about as much as the weather allowed us to do today, so we filled in the rest of the day working indoors then headed out to collect Guy from the airport.
These travel blog entries related to Norseman Capital Of The World Red Lake Northern Ontario Canada may interest you too:
Title:
Norseman Capital Of The World Red Lake Northern Ontario Canada
A fairly quiet day with a short jaunt to the nearby Norseman Heritage Park in the town of Red Lake, the Norseman Capital of the World in Northern Ontario, Canada.
Author:
Michelle Coats
Date:
cdn_22v_17058
Newest travel blog entries:
Press "Ctrl+D" to bookmark this page.
Please use this Code to link to this page (copy/paste):