Old Opera House Frankfurt Germany
The fountain outside the old opera house in the city of Frankfurt is replaced with a new kind of fountain - one made of lights.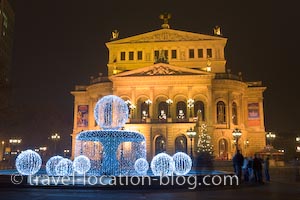 Picture of the old Opera House of
Frankfurt at night.
December 22, 2007:
The Old Opera House, Alte Oper Frankfurt, and its fountain decorated with lights at dusk, downtown Frankfurt, Hessen, Germany, Europe.
These travel blog entries related to Old Opera House Frankfurt Germany may interest you too:
Title:
Old Opera House Frankfurt Germany
The fountain outside the old opera house in the city of Frankfurt is replaced with a new kind of fountain - one made of lights.
Author:
© travel-location-blog.com
Date:
eur_ds3_0325-edit
Newest travel blog entries:
Press "Ctrl+D" to bookmark this page.
Please use this Code to link to this page (copy/paste):