Old Town Prague Czech Republic
Walking the ancient streets of Old Town Prague in the Czech Republic, Europe.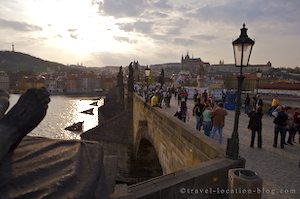 Photo of pedestrians on the Charles Bridge
in Old Town Prague, Czech Republic.
On our third day of walking the streets of Prague, we checked out the Old Town district otherwise known as Stare Mesto. This includes the Old Town Square with bustling market stalls, waiting for the quaint "Procession of Apostles' at the Old Town Hall Tower which features a remarkable astronomical clock, and the famous Charles Bridge.
Prague has many distinct districts representing different periods in time. To be fully appreciated, the main districts of Prague require a day each of exploration but since the majority of us have limited time, the main points of interest in Prague are the Old Town (Stare Mesto), New Town (Nove Mesto), Castle area (Hradcany), Mala Strana, and the Charles Bridge. Each of these areas have cobbled lanes, intriguing shops, Cafes, and historic buildings and structures, so you still need some time to explore them.
Vendors and Pedestrians on the Old Town Side of the historic Charles Bridge, Prague, Czech Republic, Europe.
These travel blog entries related to Old Town Prague Czech Republic may interest you too:
Title:
Old Town Prague Czech Republic
Walking the ancient streets of Old Town Prague in the Czech Republic, Europe.
Author:
Michelle Coats
Date:
21.04.06 - Old Town Prague Czech Republic w3983
Newest travel blog entries:
Press "Ctrl+D" to bookmark this page.
Please use this Code to link to this page (copy/paste):