Polar Bear Statues Bears On Broadway Winnipeg Manitoba
Picture of a few of the polar bear statues which form part of the "Bears on Broadway" collection near the grounds of the Manitoba Legislative Building in Winnipeg, Manitoba, Canada.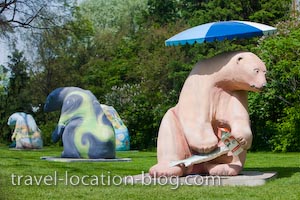 Photo of polar bear statues near the Manitoba
Legislative Building grounds in Winnipeg, Manitoba.
June 18, 2008:
The Bears on Broadway project was a special event program to commemorate the 75th anniversary of CancerCare Manitoba.
The project enlisted an army of construction, technical, and building experts as well as a multitude of artists. Each of the sixty two, seven foot, artistically colored bears has a sponsor and a theme. The whole project is said to haved raise substantial funds for the cause.
The bear statue pictured here in the foreground is titled "Bear Necessities" by Hubert Theroux. It depicts man's basic needs such as shelter represented by the umbrella, food as represented by the salmon, and water represented by the orange juice tetra pak. There is also a tube of sunscreen featured.
Polar Bear Statues in the "Bears on Broadway" collection near the Legislative Building grounds in the City of Winnipeg, Manitoba, Canada.
These travel blog entries related to Polar Bear Statues Bears On Broadway Winnipeg Manitoba may interest you too:
Title:
Polar Bear Statues Bears On Broadway Winnipeg Manitoba
Picture of a few of the polar bear statues which form part of the "Bears on Broadway" collection near the grounds of the Manitoba Legislative Building in Winnipeg, Manitoba, Canada.
Author:
Michelle Coats
Date:
cdn_22v_17366
Newest travel blog entries:
Press "Ctrl+D" to bookmark this page.
Please use this Code to link to this page (copy/paste):