Quick Polar Bear Facts
Here are a few quick facts about the world's largest land carnivore - the polar bear.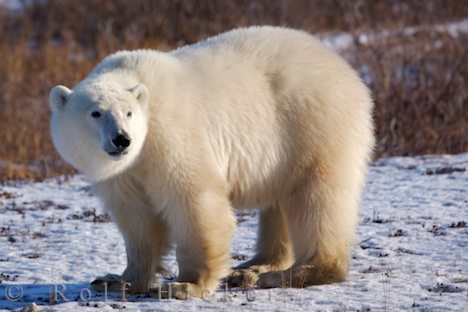 Picture of an adolescent polar bear near the
town of Churchill, Manitoba, Canada.

Churchill: October 21 - November 6, 2007.
Polar bears are the world's largest land carnivore and are classified as a semi-aquatic marine mammal. They are as at home on the land as they are in the water or on the ice. Ice build up during the winter months is important for polar bears because it a provides them with a platform to access their prey - primarily seals, whales, and young walruses. Although they are very strong swimmers and have been seen swimming up to 100 kms from land in Arctic Waters, there have been some recordings of drownings due to early ice pack recession.
The skin of a polar bear is black and the fur is translucent but appears white. Their thick blubber provides them with buoyancy and protects them against frigid temperatures. They have short tails, and small ears which helps to reduce heat loss.
The polar bear has become the symbol of global warming, and is under threat of becoming extinct by the middle of the century due to decreases in the polar sea ice. A petition to place the polar bear on the threatened species list has been delayed.
Here you can find some great polar bear photos photographed by professional nature and wildlife photographer Rolf Hicker.
These travel blog entries related to Quick Polar Bear Facts may interest you too:
Title:
Quick Polar Bear Facts
Here are a few quick facts about the world's largest land carnivore - the polar bear.
Author:
Rolf Hicker Photography
Date:
cdn_k3s34671
The scientific name for the picture Quick Polar Bear Facts is:
Ursus maritimus
Newest travel blog entries:
Press "Ctrl+D" to bookmark this page.
Please use this Code to link to this page (copy/paste):