Quick Tour Of Auckland New Zealand
Before heading out of Auckland, we take a short tour of the largest city in New Zealand.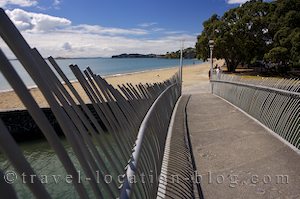 Picture of the footbridge and beach at
Mission Bay, Auckland, New Zealand.
With limited time in Auckland, in fact only about 3 hours, we picked out a few main things that we thought needed to be done during any visit to the city.
Staying in Takapuna on the North Shore we decided to hit the road at about 10:00am so that hopefully the peak hour traffic will have cleared sufficiently. But oh dear, in only three years of absence from Auckland I'd forgotten what it meant ... peak hour traffic!! We were only 5-7 minutes from the harbour bridge but as soon as we pulled out onto the road in Takapuna we could see that it would take a tad longer than that since it was STILL peak traffic. Luckily it wasn\'t severe and it only took about 30 minutes to the bridge - that's good!
Our first stop in Auckland city was to be the Sky Tower, a 328 metre tower which is the highest in the Southern Hemisphere. Riding the lift is even an experience with it's glass panels which give views of the city on the way up to the observation deck at 186 metres. Once at the Main Observation deck you are immediately greeted with stunning 360 degree views of the city and Hauraki Gulf, as far as your eyes can see. To add to the spongy feeling in the soles of your feet, take a stroll over the 38mm thick glass panels in the floor for a view straight down! The Sky Tower features a couple of restaurants and a cafe plus another viewing deck further up called the Sky Deck. For the adventurous, try a Sky Jump - the highest jump in New Zealand. Not for the faint-hearted nor us ...!
We head back down in the lift to retrieve our car from the basement and decide, with time running out, that we'd head straight for Mission Bay along Tamaki Drive for a bite to eat and a stroll along the pohutukawa lined beach. One of several beaches along Tamaki Drive, Mission Bay is a popular recreational reserve about 10 minutes from the city centre and is a nice beach to soak up some sun and try a spot of fishing.
Quite a posh suburb, Mission Bay features an army of restaurants and cafes which offer alfresco dining, but we were looking for something quick, and not a full lunch meal that would break the bank .. if you know what I mean!! We found a nice little bakery just off the main road that fitted the bill perfectly.
Time to get back to Takapuna, so we headed out for a quick 'drive through' of the quaint community of Parnell then back onto the motorway to the harbour bridge and Takapuna.
These travel blog entries related to Quick Tour Of Auckland New Zealand may interest you too:
Title:
Quick Tour Of Auckland New Zealand
Before heading out of Auckland, we take a short tour of the largest city in New Zealand.
Author:
Michelle Coats
Date:
08.03.07 - nzk3s17001 Quick Tour of Auckland
Newest travel blog entries:
Press "Ctrl+D" to bookmark this page.
Please use this Code to link to this page (copy/paste):