Sailing In The Bay Of Islands New Zealand
Day Sailing in the beautiful Bay of Islands from the town of Paihia in Northland, New Zealand.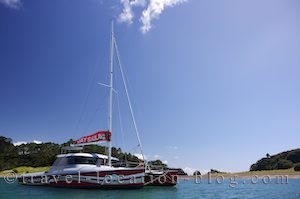 Photo of the Carino anchored at Motuarohia Island
in the Bay of Islands.
Today is set aside for a sailing trip around the Bay of Islands with skipper Vanessa McKay and the crew of Carino, a 50 foot catamaran sailing yacht. Carino Sailing and Dolphin Adventures is operated by a local family who are passionate about sailing, the Bay of Islands, and the wildlife which inhabit the Pacific waters.
Arriving at the Paihia Pier we board the spacious catamaran Carino which has been purpose built especially for day sailing in the Bay of Islands, and stow our bags below the main deck. As we motor out from Paihia a crew member gathers the passengers together and unrolls a chart to explain where we're headed. After the brief orientation, then a pick up from the Russell Pier, we sat back to enjoy the trip.
It is not long before we encounter a pod of Coastal Bottlenose Dolphins swimming erratically off the eastern coast of Moturoa Island. These animals seemed less sociable compared to other species of dolphins as they didn't really hang around to interact (besides the occasional breach beside or near the boat), choosing instead to keep to their pods. Despite this a few passengers donned masks and snorkels to try swimming with them. We ended up spending quite a while following the movements of the dolphins until they broke away completely and it was time to find a protected anchorage for some shore leave and then lunch.
Our skipper pulled Carino into a sheltered bay on Motuarohia (Roberton) Island and then set the anchor. We went ashore in small groups aboard the inflatable and proceeded to walk a track to a viewpoint over the island, and the pristine Bay of Islands. It was such a stunning view and definitely well worth the trudge up the steep steps! We soon descended back to the beach and hailed a ride back to Carino so that we could don our bathing suits and take a dip in the cool waters before lunch. The smell of lunch cooking on the BBQ wafted in the air and reminded us that we were hungry and before long drew us and other passengers back on board.
Lunch consisted of BBQ sausages and onions in a fresh roll with salad and tomato sauce - yum (great kiwi summer fare)!!
After tidying up from lunch, the sails were set and trimmed with the help of the passengers and we set a course back to Russell and Paihia. Along the way we spotted several Little Blue Penguins, Gannets fishing (dive bombing), and several other marine birds, plus another visit with Dolphins.
We were returned to the Paihia Pier around 4pm, after a full and exciting day on the water!
These travel blog entries related to Sailing In The Bay Of Islands New Zealand may interest you too:
Title:
Sailing In The Bay Of Islands New Zealand
Day Sailing in the beautiful Bay of Islands from the town of Paihia in Northland, New Zealand.
Author:
Michelle Coats
Date:
06.03.07 - nzk3s16934 Sailing in the Bay of Islands
Newest travel blog entries:
Press "Ctrl+D" to bookmark this page.
Please use this Code to link to this page (copy/paste):