Scenic And Diverse Catlins Landscape
Revisiting the delightful Catlins area in the deep south of New Zealand.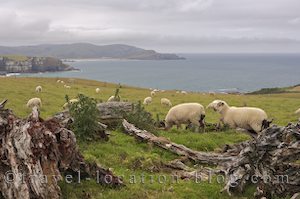 Picture of sheep grazing in a paddock along
the track to Jack's Blowhole in the Catlins.
If you have been following this blog - you will know that we have mostly freedom camped throughout our New Zealand tour. We have come across some simply wonderful camping locations and last night was no exception. We found a park along the road between Kaka Point and Nugget Point Lighthouse which was again our favourite type - "waterfront" and only metres from the beach.
Our first visit today was to Jack's Blowhole a 55 metre deep, 144 metre long and 68 metre wide hole in the ground which at high tide, the sea water surges in - roaring and spouting. The odd thing about this hole is that it's 200 metres inland from the sea and is the only one like it in New Zealand. Access is by a walking track which is approximately 1 hour return across farmland. These sheep must have one of the best coastal views in the country!!
Moving on, we pass by an estuary with a medley of interesting water birds such as Royal Spoonbill, Plovers, and white faced herons which were busy wading in the shallow waters.
Next up was the Purakaunui Falls, an iconic waterfall which was featured on a New Zealand Postage stamp in 1976. The Purakaunui Falls are a multi tiered cascade on the Purakaunui River.
We plan to reach Curio Bay in order to watch the Penguins come ashore after a day of feeding out at sea. Unfortunately, there was a lot of human activity on the beach which made for brief and distant sightings only.
We decided to spend the night at the Curio Bay Campground which is just along the road in a peaceful and scenic location at a reasonable price.
These travel blog entries related to Scenic And Diverse Catlins Landscape may interest you too:
Title:
Scenic And Diverse Catlins Landscape
Revisiting the delightful Catlins area in the deep south of New Zealand.
Author:
Michelle Coats
Date:
24.01.07 - Scenic and Diverse Catlins Landscape nzk3s13355
Newest travel blog entries:
Press "Ctrl+D" to bookmark this page.
Please use this Code to link to this page (copy/paste):