Search For The Elusive Polar Bears And Sunset In Churchill
A bitter cold day dawns and the search for polar bears continues in Churchill, Manitoba, Canada.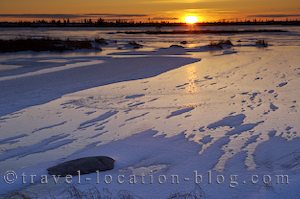 Picture of sunset over a frozen lake in Churchill,
Manitoba, Canada.
October 26, 2007:
Now winter is definitely setting in, last night got down to way below freezing. When we arrived in Churchill on the 22nd the ponds and lakes on the tundra appeared to be far from freezing point - no ice around the edges to give any indication of just how cold it was. This morning when we headed out to the wildlife management area, the ponds and lakes were frozen solid, we couldn't believe how fast it had happened.
Dressed up in our winter woollies, we headed out to the same location as the other times. We have a circuit we drive when we're searching for the polar bears, basically we drive all the roads we can. Some roads are safe to drive on while others are not, especially when it gets icy or is lightly covered in snow and you cannot see what you're driving on! On the first day we were here, a tourist managed to get her rental truck stuck in the sand at the end of a remote road. She was very lucky we'd driven down to explore the road, otherwise she could've been there a while. The bad thing was she had been contemplating walking out to the main road which I suppose sounds like a good plan, except when you're in polar bear country! The rental car company really should tell people what to do in these circumstances as well as how to bear watch - we've seen some crazies out there!
Today ended up being much the same as yesterday - no polar bears in sight, the only difference - it was a beautiful fine day. The light was perfect and all we needed were our models. It's so strange there were no bears, no ptarmigans, no foxes or anything just like the day before! We were sure the cold snap would get them moving but obviously it's not cold enough!
We hung around the wildlife management area all day until sunset, which was just beautiful. The vibrant orange sky reflected on the icy lakes turning them the same fiery colour. Shortly afterwards we were driving back to town, as the dark quickly claimed the landscape.
These travel blog entries related to Search For The Elusive Polar Bears And Sunset In Churchill may interest you too:
Title:
Search For The Elusive Polar Bears And Sunset In Churchill
A bitter cold day dawns and the search for polar bears continues in Churchill, Manitoba, Canada.
Author:
Michelle Coats
Date:
cdn_k3s34190
Newest travel blog entries:
Press "Ctrl+D" to bookmark this page.
Please use this Code to link to this page (copy/paste):